DR. PATRICK BURCHFIELD
Dr. Burchfield is a graduate of the University of Texas Dental Branch at Houston in 2004. While attending Dental School, Dr. Burchfield was awarded the United States Army Health Profession Scholarship. He proudly served four years in the Army as a dental officer at Ft. Campbell, KY and completed a residency in Advanced Education in General Dentistry. He also served from 2006-2007 in Baghdad, Iraq performing dentistry on soldiers and contracted civilians. Dr. Burchfield is a former resident of Houston, Texas, and has a wife and two children.
Professional Vision Statement
"The Lord has blessed me with a career in general dentistry. It is my duty and obligation as a health care professional to constantly advance in my skills and knowledge as the field of dentistry continues to evolve. Our practice has the reputation for compassion and excellence throughout Brazos Valley. I am able to have a balance in my life creating sufficient time for faith, family, and service. I imprint my Christian values into my practice philosophy. I enjoy working with other dental professionals and look forward to working with them to improve dental health throughout our country and underserved nations."
---
DR. GREGORY MELTON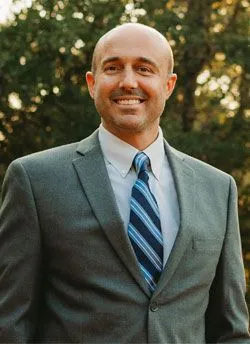 Dr. Melton was born and raised in Tyler, TX. Upon graduating from The University of Texas at Tyler, he continued his education at Baylor College of Dentistry, graduating in 2006. During that time, he met his wife, Alissa, while working at Pine Cove camps. After practicing in Tyler and Dallas, Dr Melton and his family of seven call the Brazos Valley home. He joined Dr. Burchfield and his practice in April, 2011, and can think of no better area to be able to serve the community's dental care needs.
Professional Vision Statement
"I find it a great privilege to practice dentistry and be able to interact with people in the dental office setting. I do my best to put patients at ease with a fun, laid back environment, while at the same time providing the best quality care possible. My main focus with patients is honesty, giving them their viable options and guiding them through the process of maintaining or achieving dental health. Professionally and personally, I strive to serve God in all I do. My family is my focus, but I hold my family of patients in high esteem as well."
---
DR. JAMES CUNNINGHAM DMD
Dr. Cunningham was born and raised in Birmingham, Alabama. He studied Psychology at The University of Alabama, and then he completed his Doctorate of Dental Medicine at The University of Alabama School of Dentistry in 2018. Since graduating, he has lived and worked in Alabama and Virginia. He and his family moved to College Station in the summer of 2023 for his wife's academic appointment at Texas A&M University. He and his wife have one son and a dog, and they are all happy to call College Station their new home.